Careers
Supporting our students on the next stage of their personal and educational journey is central to what we aim to achieve at Northfleet Technology College, with the quality of our provision being recognised by the school holding the Investors in Careers kite mark.
Through our Careers Programme, we aim to expose our students to higher education, apprenticeships and careers within various industries beyond NTC.
This not only shows students how their learning applies to the real world, but it develops their understanding of the various pathways on offer to them and the skills and qualifications they will require to enter them successfully.
Our vision
There are 8 Gatsby Benchmarks that we as a school aim to fulfil, including; A Stable Career Programme from Year 7-14, developing student understanding in Labour Market Information, Addressing the Needs of All, Learning Careers throughout the Curriculum, Encountering Potential Employers, Ascertaining Work Experience, giving students the opportunity to meet with both Further and Higher Education personnel and Personal Guidance.
Our careers programme
Workshops
We regularly run workshops and talks from industry experts or visit areas of industrial and commercial expertise to give our students a broad range of experiences. Highlights have included:
BAE Systems
British Armed Forces
Hilton Hotels
Kier
Royal Opera House
National Grid
Orchard Theatre & The Woodville Halls
Royal Mail
Volker Fitzpatrick
Willmott Dixon
The University of Kent, Canterbury Christ Church University and University of Greenwich.
Careers interviews
All students will have access to a Careers Interview during their time at NTC. We have funding for an external professional who comes in and supports students with their next steps. Helping signpost students into the correct educational settings for the career pathway they have chosen. If students feel they will benefit from a second Careers Interview this can be conducted, please email Mrs Garcha or Mr Kadiki if you or your son feel this is required.
Work experience
Students at NTC have the opportunity in Y10 to undertake Work Experience. Students can choose to take part in 5 days of Work Experience over a three-month period, to help support them in deciding their future career pathway. In KS5 students are encouraged to take part in longer Work Experience placements that will be honed in on an area they feel they would like to seek employment in or a sector that they will be continuing to develop knowledge in when they move on to their Post 18 choices.
Students are expected to source Work Experience themselves. However, if extra support is required, please speak to:
Miss French - KS4 Work Experience
Ms Setters - KS5 Work Experience
Learning coaches
Every student has a personal Learning Coach as well as access to a dedicated Careers Advisor to help explore their future aspirations and guide them in the right direction, from choosing the most suitable GCSEs and Post 16 courses to obtaining work experience placements.
Contact
No matter what point students are at on their road to their future career, we have a team of staff there to support and guide them forward with a range of advice and experiences.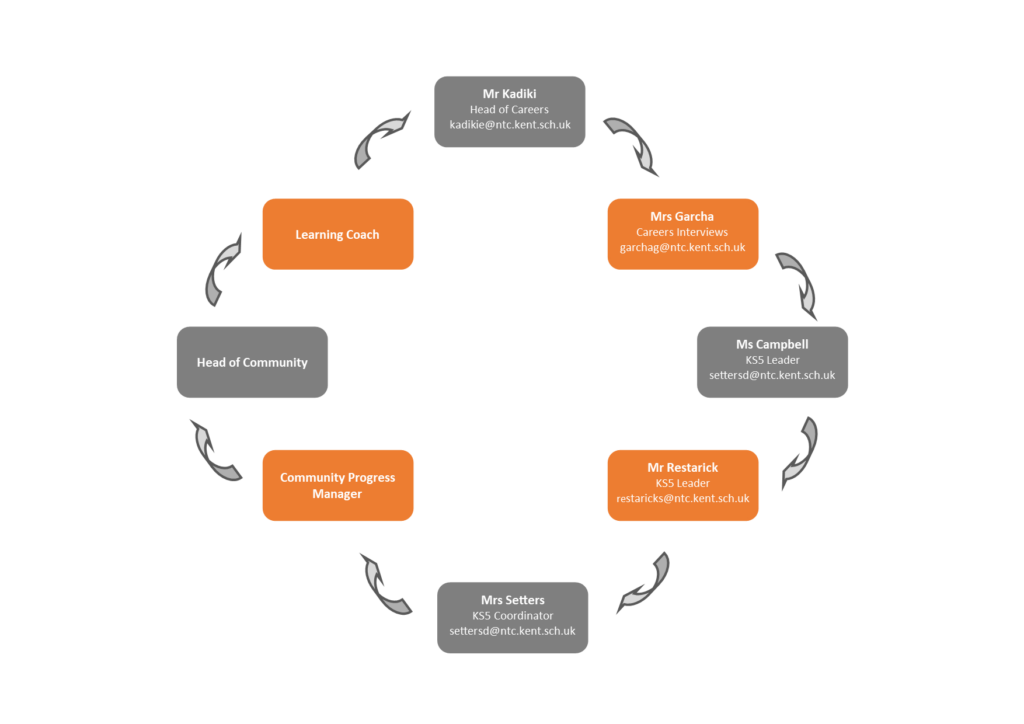 If you have any questions that are careers related please feel free to contact the careers team either via email at careers@ntc.kent.sch.uk or by contacting reception.
Key information